Welcome! We are so happy that you are visiting!
We love creating unique silver and gold contemporary jewellery. Whether an order entails a bespoke design or you select from our existing collections, each piece is individually handmade with care and attention to detail.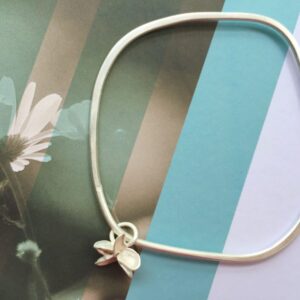 Quick View
Organically shaped fine bangle with a flower Materials: Sterling Silver, matt finished Medium size: 63mm (inside diameter if round) Silver wire width: 1.8 to 2.8mm approximately Silver wire thickness: 1.8 to 1.3mm approximately Similar bangles can be made for you in all the precious metals. Prices will vary by weight at time...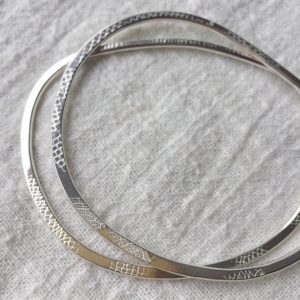 Quick View
Which would be some of the elements that define your personality? Do you see yourself as earthy? Are you light? Flexible, delicate? This design have been developing, as I cater for different clients. I use a variety of textures that resonate with the person in this hand shaped thick bangle....
Intuitive bespoke necklace
Thank you Dilma, I love my intuitive bespoke jewellery!
You really made exactly what I wanted: soft, feminine & unique.
I  wear the earrings everyday and love the option of changing the beads or pendant for a different style. The necklace is perfect, it's so sweet and delicate…the surprise love heart was very special.
Thank you again for my special treasures!
RENEE MORGANITE
Therapist, Australia
Miracle worker
WOW!! Omg Dilma you are a miracle worker!! How did you get it done so quickly?!?!? Amaaaazing!!! Thank you, thank you, thank you!!!"
Mirna's FB message after receiving her wedding ring:
"Oh Dilma, I absolutely love it!!!!!! I cannot believe how beautiful it is, I can't even capture its true beauty in a photo. Thank you so so so so so so much. I can never say thank you enough xxxxxxx
MIRNA SEGAL
Australia
Wedding ring
Best wedding ring I ever seen… I love it!
MAREK PIPI
Australia
Power of meaning & intention
"I have worn my beautiful coiled Amuleto ring every day since I bought it. The words remind me to keep trusting in the generosity of life, to believe in my desires, to ask for what I want, be ready to receive, and to be grateful for everything I have. I enjoy the simplicity of the design. And the words of affirmation resonate with me every day. To me it is the meaning of a jewellery piece which gives it it's real value, as well as the intention behind its creation. "
KISH KIDD
Store manager, GWINGANNA Lifestyle Retreat, Australia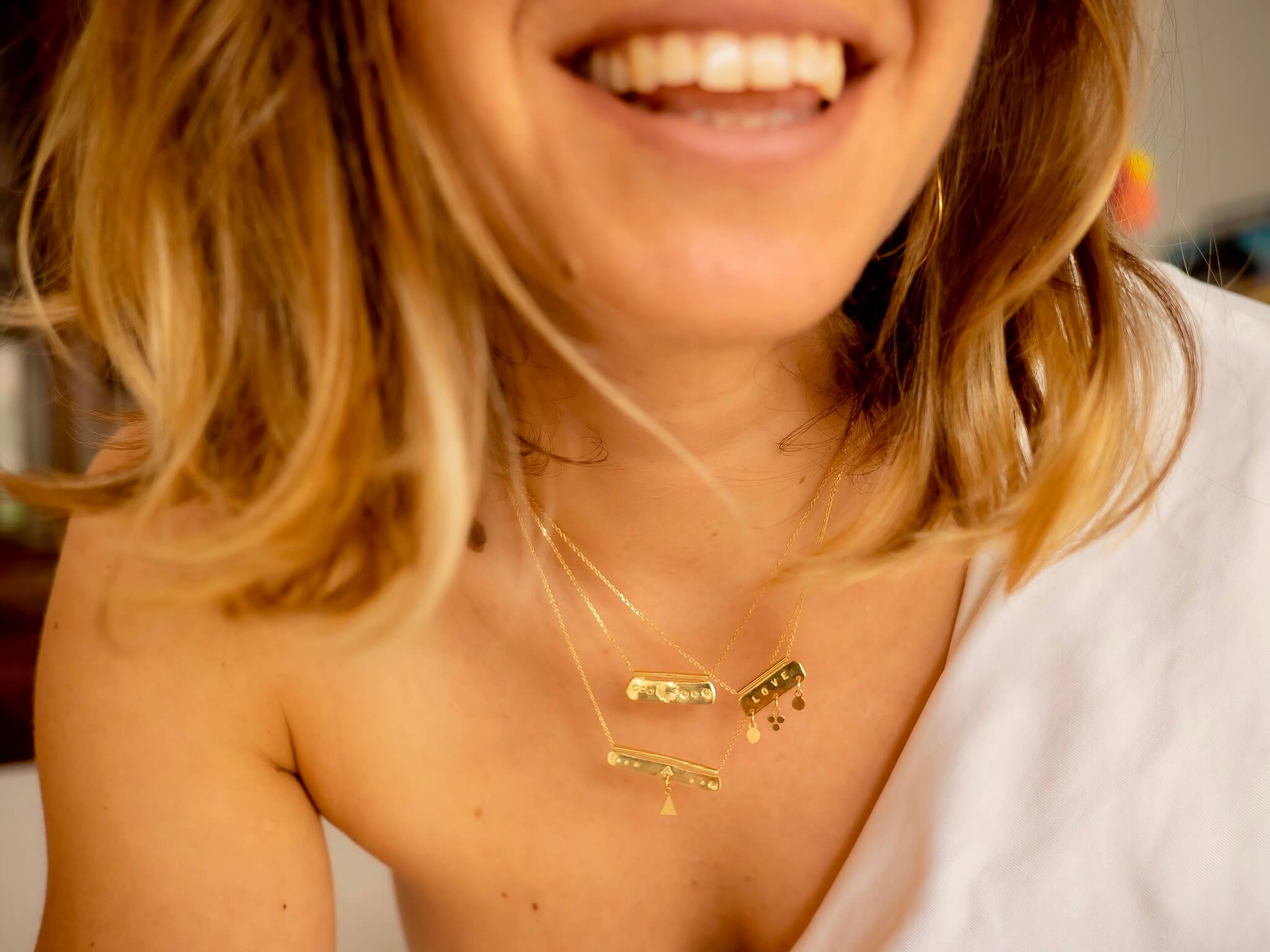 We put positive energy into each piece by only making it from a place of joy.
Amuleto Designs jewellery is created to empower and bring you joy! The energy of an object is important; they carry vibrations and emotions. It is our intention to create jewellery that uplift and empower, bringing joy, prosperity & protection. Enjoy browsing and shopping our collections. Please note that custom pieces can be co-created just for you.
About the designer:
"I so enjoy working with metal and fire. Moulding, shaping, co-creating with the spirit that guides me to give birth to beautiful objects that open my heart. What a blessing!"
Dilma's mission is to empower people, be it through 5rhythms dance, Kinesiology, a Crystal Dreaming shamanic session, or by the use of a jewellery piece. Dance, healing, meditation and art merge together in her beautiful jewellery.
Dilma's understanding of energy & the power of affirmations as well as intentions, is the foundation of "Amuleto Designs".